NATIONAL OBSERVATORY OF ATHENS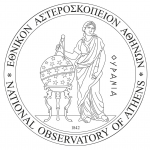 NOA is the oldest research establishment in Greece, having been founded in 1842. It is a research center operating under public law rules and procedures and is supervised by the General Secretariat for Research and Technology of the Ministry of Development and Investments. With its highly-skilled human resources and important infrastructure, NOA today plays an important role in various research fields, including Astronomy, Astrophysics, Space applications, at European and international level.
Its largest Institute is the Institute of Astronomy, Astrophysics, Remote Sensing and Space Applications (IAASARS). It has numerous research programs which bring a revenue of over 3M€ per year mainly from the ESA, the EU and the National Secretariat of Research and technology. IAASARS consists of three main research units: 1) Observational Astrophysics 2) Solar-Terrestrial Environment – Space Physics 3) Remote Sensing and Machine Learning for Signal/Image Processing.
The Observational Astrophysics group operates the Helmos and the Kryoneri Observatories. The 2.3m "Aristarchos" telescope is installed at Helmos. It is the largest research infrastructure of the NOA and the 2nd largest telescope in continental Europe. The dedicated personnel of the Helmos Observatory has excellent knowledge of the telescope operation and its optical instrumentation, as well as of the computer systems that support the telescope. NOA is leading T4.5 (Use cases using space segment) and will collaborate closely with AUTH and FORTH OGS.