SOUTH EAST TECHNOLOGICAL UNIVERSITY (SETU)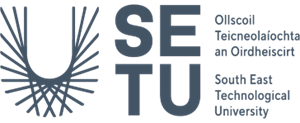 South East Technological University (SETU) is one of the largest institutes of technology in Ireland. It was established as a Regional Technical College in 1970, and was the first to be awarded Institute of Technology status in 1998.
The range of academic programmes is exceptionally extensive, ranging from Higher Certificate right through to post-doctoral research and covering the Humanities, Health and Nursing, Science and Informatics, Engineering and Architecture, Business and Education. SETU offers tuition and research programmes in various areas from Higher Certificate to Degree to PhD.
South East Technological University is committed to being a research-led Institute, recognised for its distinctive, high quality centres of research.  Our strategy is to create substantial centres of excellence for world-class research in which individual scholars and research groups are given maximum freedom to pursue their investigations.
Many of the researchers have a high profile in both the national and EU community of academics. This is shown by the fact that SETU researchers have competed successfully against University researchers for prestigious national and EU research funding (e.g. PRTLI, SFI and EU Frameworks Programme FP4, FP5, FP6 and most recently FP7).